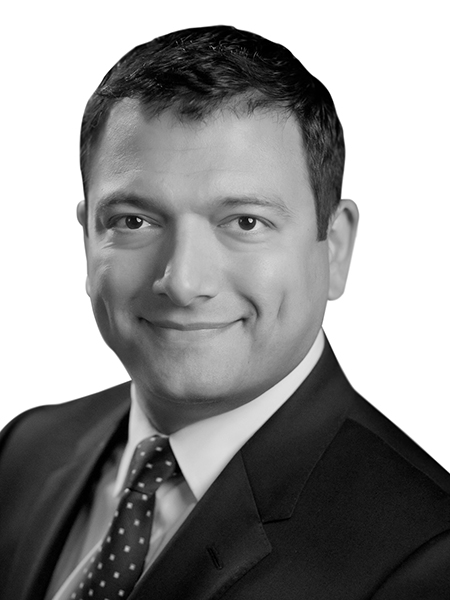 Baktash Kasraei
Vice President, Industrial
Current Responsibilities
As a member of the JLL's Supply Chain and Logistics practice group, Baktash specializes in providing service excellence to corporate tenants and real estate owners and developers.
Prior to joining JLL as a founding member of the Vancouver industrial practice, Baktash was a real estate advisor with Colliers International. Earlier in his career, with CN Rail, Baktash gained valuable business experience and deep insight into port and transportation elements of global supply chains and the needs of corporate industrial occupiers.
From real estate strategy to market execution, our analytical model integrates business consulting strategies with JLL's world class suite of services that consistently deliver enterprise-wide value to end users of industrial real estate and assist owners in securing tenants.
Specialties
Corporate services and tenant representation (renewals and relocations)
Location strategy (Footprint analysis, site selection, incentive analysis) utilizing various tools including ArcGIS
Supply Chain & Logistics Solutions
Land acquisition and disposition, including brownfield sites
Investment analysis and sales
Key Tenant Representation Assignments
Iron Mountain:  Lease renewal negotiation of four facilities totaling 149,000 SF in Vancouver, Burnaby and Coquitlam.
Iron Mountain: Site selection and real estate lease negotiation for a new 45,000 square feet facility at 1633 Kebet Way, Port Coquitlam
Canada Post Corporation: Location strategy and real east negotiation for a new 94,000 square feet at Oxford Properties Riverbend Business Park in Burnaby.
Canada Post Corporation:  Site selection and real estate negotiation for a new 52,000 square feet facility Knightsbridge Business Park, a 32,000 SF facility at Capilano Business Park in North Vancouver, a 25,000 SF facility at Gateway Pacific Business Centre and Knightsbridge Business Park and a 27,000 SF facility and a 4091 McConnell Court, Burnaby.
Royal Dutch Shell and LNG Canada:  Consulting services in support of Kitimat LNG facility. Baktash advised the client on various projects including land acquisitions, land leases, long term employee accommodation RFP development, air side and rail logistics planning with complex negotiations involving the local municipalities, first nations, merchant developers, land owners and the airport authority.
Shoppers Home Health Care: Site selection and lease negotiation for a new laboratory and distribution facility at New Haven Business Park in Burnaby.
Centric Health: Site selection and lease negotiation for a new market headquarters, showroom and distribution facility at Glenwood 6 Business Park in Burnaby.
Stantec: Site selection and lease negotiation for a new laboratory at Marine Way Business Centre.
Harris Corporation: Lease restructuring and relocation of Burnaby facility.
Lennox International: Negotiated a lease renewal of existing facility and site selection for a new distribution centre.
M & R Environmental: Site selection and final lease negotiation of 35,700 square feet at 7880 Vantage Way, Delta with Bosa Properties.
Key Agency Assignments
GWL Realty Advisors: Listed and leased 74,042 square feet at 12291 Riverside Way, Richmond.
Morguard Investments Limited: 162,000 square feet multi-unit agency assignment at Marine Drive Industrial Centre, Vancouver.
Ex-Shell land portfolio: Marketing and individual disposition of 12 brownfield sites. Baktash worked with the vendor and various purchasers through a very complex purchase and sale process involving remedial end points, Certificates of Compliance, future liabilities and rezoning for future redevelopment.
Ex-Husky Energy land portfolio: Marketing and disposition of 5 brownfield sites in Metro Vancouver and Victoria. Repositioning of the assets involved understanding highest and best use through rezoning and redevelopment, impact of risk-based vs numerical approach to remediation on redevelopment potential and offsite liabilities and how they may impact marketability of a future development.
Rendition Developments: Acquisition of a development site, preleasing of a new building and investment disposition of a new office/industrial development at 7 East 6th Avenue, Vancouver for $9,850,000.
Business Development Bank of Canada: Disposition of two distressed assets at 5416 and 5430 275th Street, Langley though a court ordered sale.
Aevitas: Disposition of an existing facility at 7722 Progress Way, Delta and acquisition of a new facility at 14170 256th Street, Maple Ridge for a combined transaction value of $7,800,000. A complex transaction involving zoning amendments and environmental impact studies relating to the proposed use.
Ashland Chemicals:  Decommissioning and disposition of 60,000 SF chemical plant and warehouse.
Represented the seller in the disposition of an office/industrial buildings at 112 & 116 West 6th Avenue, Vancouver for $10,500,000.
Conwest Group:  pre-acquisition consulting and a forward sale of a new development at 2005 Quebec Street, Vancouver.
Affiliations
Baktash is a member of the Council of Supply Chain Management Professionals (CSCMP), National Association of Industrial and Office Properties (NAIOP) and a licensed British Columbia Real Estate Salesperson
Vancouver, BC | Canada

License #: Representative