How street art made its way to storefronts and offices
Picture-perfect murals have moved from illegal to mainstream as property owners and companies hire graffiti artists
A mural Fung and Beggs created in the Logan Square neighborhood of Chicago (NurPhoto / Contributor / Getty Images)
When Victor Fung ran a New York gallery showcasing graffiti art, he found that paintings and framed photographs weren't the main attractions for art buyers. Instead, his patrons asked how they could commission the artists to create huge, unique murals.
So Fung, a graffiti artist who grew up toting spray-paint cans under the cover of night, closed his gallery in 2013 and opened Klughaus, an agency that matches graffiti artists with corporate clients, including property owners and developers. These days the company is managing about 100 projects a year, Fung says.
Commercial demand for street art is surging. Once a form of social disobedience, it has steadily moved into the mainstream, with large property owners now commissioning projects to help bring in younger generations drawn to the edgy aesthetic and its use as a picture-perfect backdrop on social media.
"Graffiti and large-scale murals are really the art of our generation and lifetime," says Fung, a 36-year-old millennial, adding that the appeal has continued with Generation Z. "The corporate world is utilizing its allure."
From train tracks to board rooms
The ubiquity of murals has transformed the street art world. Artists who in the past created their work illegally while paying the bills through odd jobs are now on the payroll of big corporations.
The cultural shift, and corporate funding, is also transforming public places. Development firm Silverstein Properties commissioned street artists to create murals around New York City's World Trade Center. Nike commissioned Los Angeles native Bijou Karman to paint a typical day in L.A. around the exterior of a store in West Hollywood.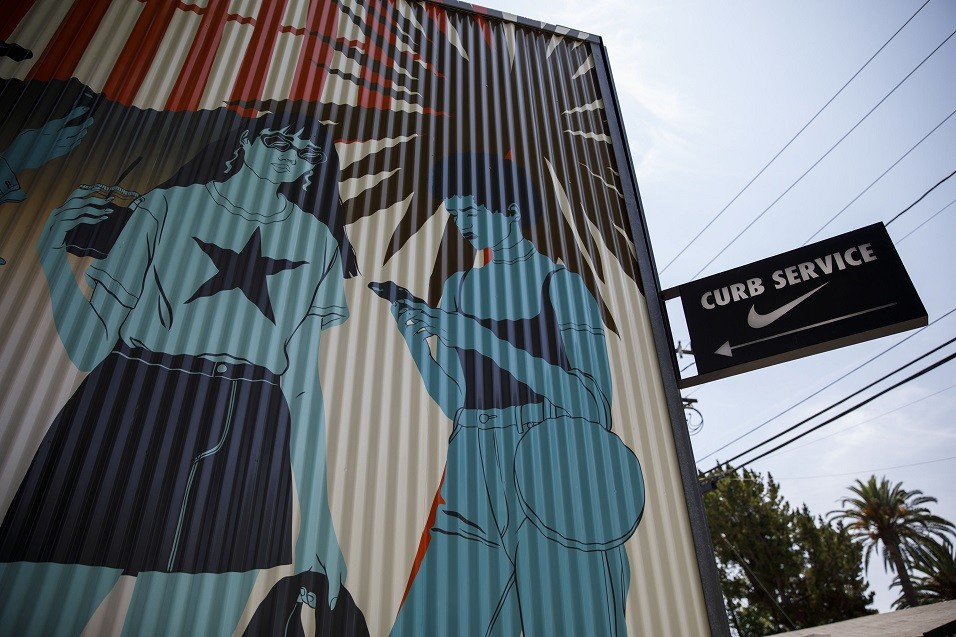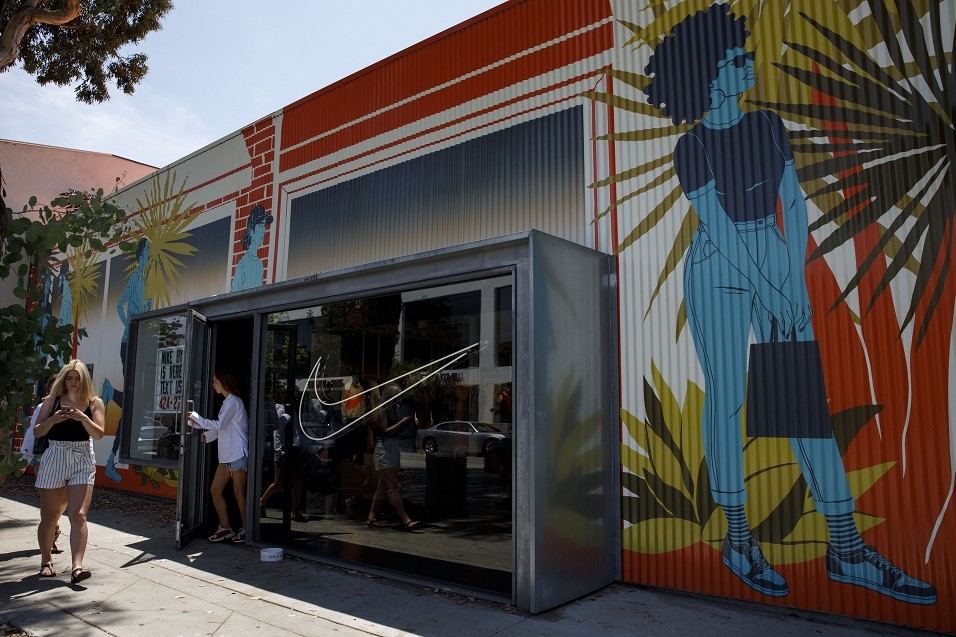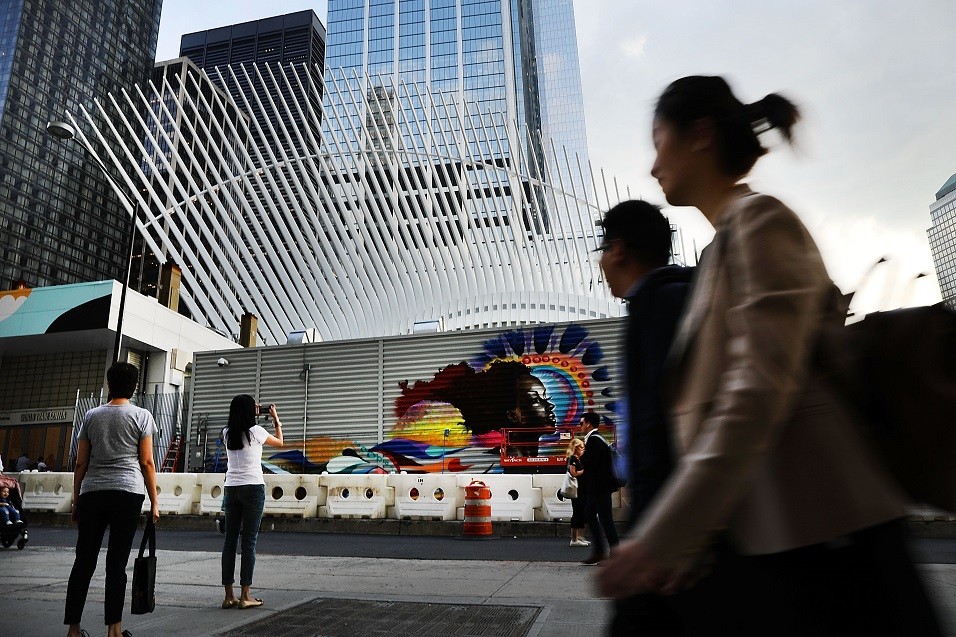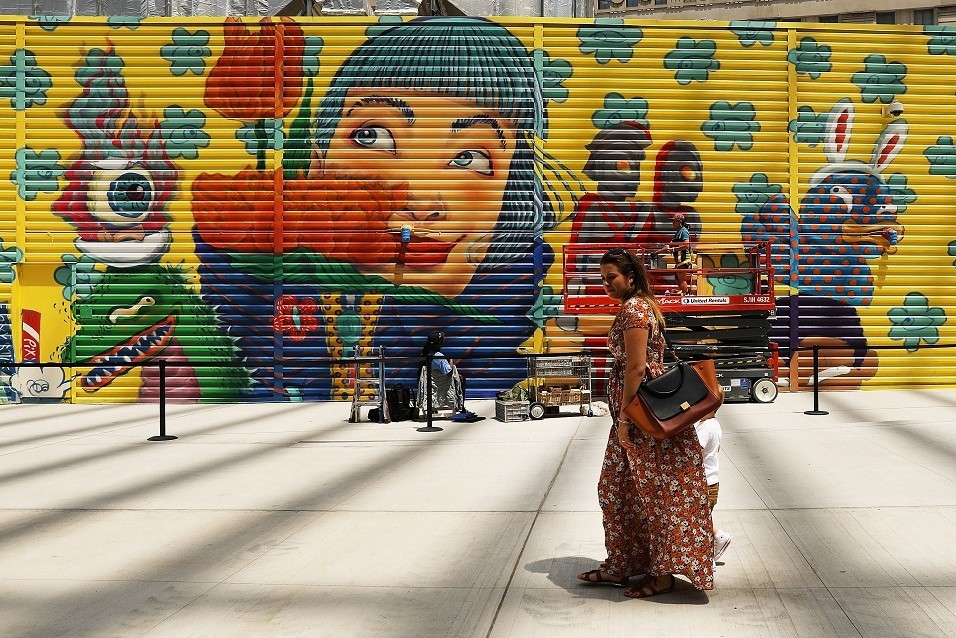 One aim of such projects is to draw people into a space, and then persuade them to stay awhile, says James Cook, JLL's America Director of Research for retail. This is especially important for retailers in the age of e-commerce needing to lure people away from online shopping and food delivery.
"It's smart that landlords have caught onto art's role in place-making," Cook says. "Real estate alone can be seen as 'just a building.' But if it can be activated with unique art and experiences, it makes something one of a kind."
Murals are temporary in many cases, creating an even greater incentive for consumers to hurry to a location — and take some photos for social media while there.
 "FOMO is a real thing," says Cook, referring to the fear-of-missing-out concept. "But these days, it's also a retail strategy."
Place-making at work
The viral potential of murals came into clearer focus around when Los Angeles-based artist Colette Miller began her Global Angels Wing Project in 2012. Starting in her home city, and spreading to areas around the globe, lines would snake down streets as people waited to stand in front of the wings that gave them, when photographed, the appearance of an angel on earth.
Delilah Hamlin poses with artwork by Colette Miller in Los Angeles  (Michael Bezjian / Contributor / Getty Images)
"Those wings helped show how something as simple as a painting on a building could inspire, energize and excite a community," says Colorado-based artist Adam Vicarel. "It also sparked ideas about how to draw people into an area to organically use their own social media networks to amplify a message for marketing and promotion."
Offices are a big piece of the trend as well. A good chunk of Fung's calls come from technology companies looking to hire artists to spray paint their office walls to convey the energy of a creative workplace to both clients and the talent they seek to hire.
Adam Vicarel painting a commissioned mural for the SyFy Network
Vicarel says he is frequently commissioned to energize workspaces through his textual-based, bold-colored designs. As demand has grown, he is now booked several months out at a time, and has engaged part-time help to execute the projects, he says.
Even construction sites have used murals to turn a temporary barricade — oft seen as urban eyesores — into something beautiful.
Steady as it goes
The broad appeal of commercial street art doesn't mean it's for everybody. Before embarking on a project, companies should evaluate whether an edgy piece they're seeking is truly aligned with their brand and the vibe they aim to create, says Michael Brindley, Executive Creative Director at Big Red Rooster, the retail branding arm of JLL. 
If not, the miscalculation may be apparent and backfire. But if the vision is clear, murals can be a powerful tool to underscore a brand's core values, Brindley says.
"Panther Coffee in Miami's Wynwood neighborhood used a mural of workers to emphasize their commitment to labor rights, from the fields where coffee beans are picked to way local laborers are treated," he says. "Companies are increasingly trying to embed themselves into a subculture moment."
That effort has made for busy days at Klughaus, which now works with more than 500 graffiti artists across the country, Fung says.
He and his partner, photographer Lisa Beggs, have a pet project called the Greeting Tour, where the two travel to cities across the country, at the invitation of visitor bureaus and property owners, "to create large murals in the style of vintage greeting cards," he says.
 "We're busy, to say the least," says Fung. "We've never been able to be so selective about the projects we're taking on."